VLAM tracks Belgian consumer behaviour through a consumer panel. During the annual Round Table of the Belgian Meat Office, internal marketing advisor Kris Michiels compared consumer behaviour with a large container ship at sea. In general, consumer behaviour changes very slowly, just like a ship that moves rather slowly in calm waters. However, when a tsunami appears out of nowhere, the ship starts to rock from side to side.
COVID-19 was such a tsunami. As in other countries, the hospitality industry was closed in Belgium, eliminating out-of-home consumption. Consumers were forced to adjust their behaviour. Home-made meals became the norm.
The different phases of corona and their effects on consumer behaviour
Just before lock down was implemented in Belgium, when the virus was spreading in China, the people went through a denial phase. Retail and the hospitality industry did not experience any problems. Price and convenience were the two most important drivers for consumers but there was also an interest in local and artisanal food, climate, animal welfare, … It was business as usual.
After the introduction of the lock down Belgium moved into a preparation phase. In this phase a lot of hoarding took place. Consumers were afraid there would not be enough food available to them. As people got used to lock down, they adjusted their behaviour (i.e. the adjustment phase). To lower the risk of getting infected, a lower purchase frequency, higher spending per shopping trip, and changed purchasing times were observed. More meals were also being prepared at home as a result of the closure of the hospitality industry.
Changing purchasing channels
In terms of purchasing channels, neighbourhood markets, discounters and specialty stores won big. Hypermarkets lost during the crisis: after the hoarding period, spending fell. This decline was followed by a recovery phase, but that phase didn't last long.
Purchase criteria for fresh food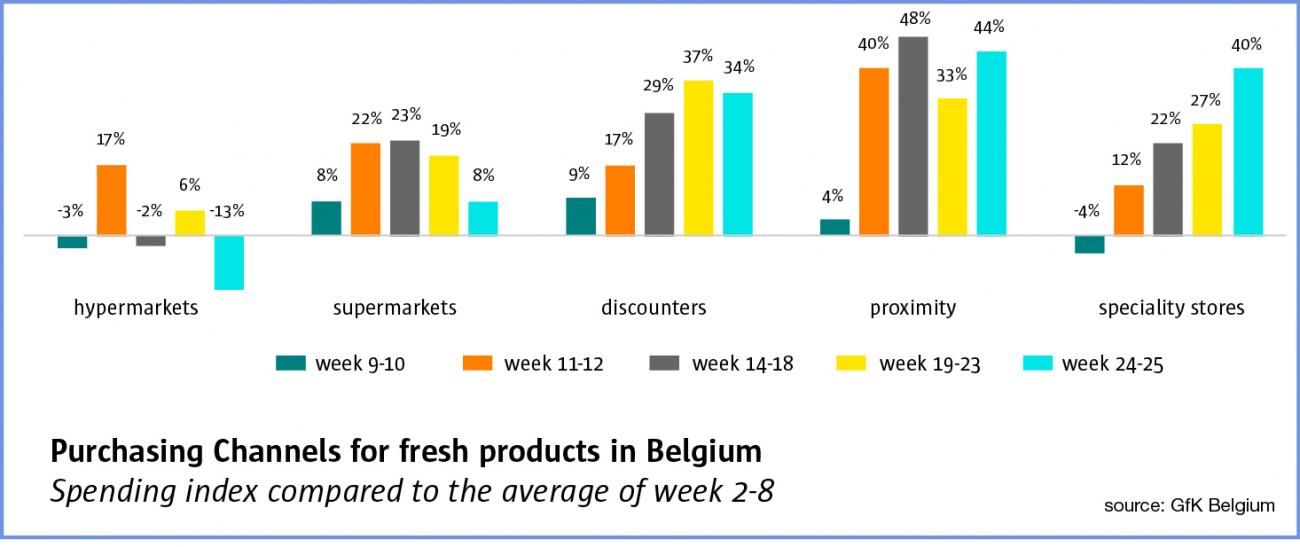 Safety has become the most important purchase criterion for almost 75 percent of Belgians. The importance of local production has also grown significantly. Local food was preferred by more than one in two consumers. In addition, almost 60 percent of Belgians gave more importance to environmental and animal welfare criteria.
The corona crisis fuelled Belgium's appetite for regional products and these products apparently left a lasting impression on consumers. More than 20 percent of consumers intend to remain loyal to this product category even after the pandemic. After the crisis, the purchase of organic products, ready-made meals or vegetarian products is back to pre-crisis levels.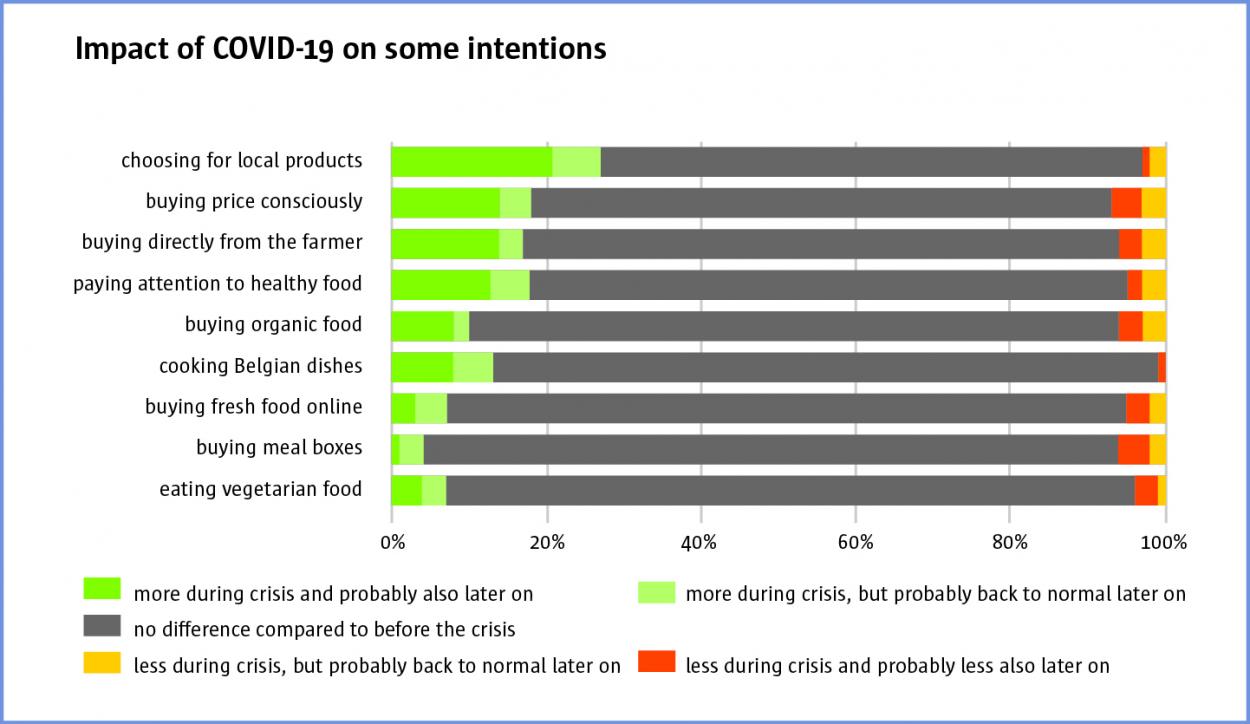 The effects of corona on meat consumption
From April to June 2020, at home consumption of all types of meat increased. Beef and pork consumption increased by 21% and 20% respectively, veal by 17%. Meat mixtures increased the most by 30%.
Within the category "meat, poultry and fish, molluscs and crustaceans", meat was the most important for at home consumption from April to June, with a share of 56.3%. Poultry accounted for about a third of consumption. Fish, mussels and crustaceans ranked third with just under 12 percent. Meat substitutes accounted for about one percent of at home consumption.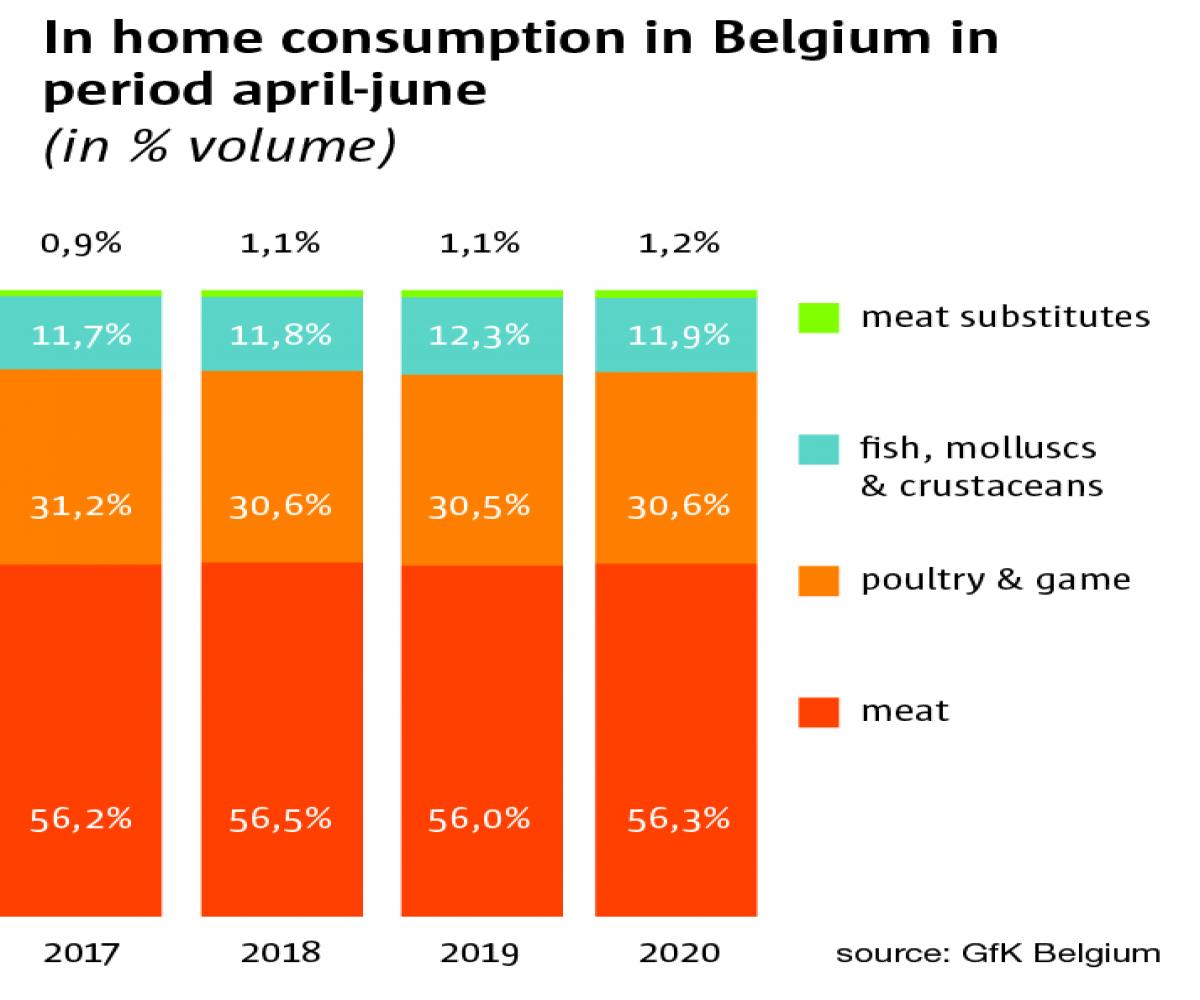 The conclusion of the study
COVID-19 had and still has a great influence on where and how food is bought and consumed in Belgium.

Because of the closure of restaurants, the focus on teleworking, ... at home consumption of fresh produce, and especially meat, increased. In the second quarter of 2020, fresh meat consumption was 23% higher than the same period last year. Mixtures of different types of meat grew the most.

Highest growth rates for convenience stores and discounters in the first phase of the crisis. In the second quarter, hard discounters achieved the highest growth rates, especially in the meat category.

The impact of COVID-19 on Belgian consumption habits is, however, limited: products normally consumed at home perform slightly better than products normally consumed outdoors (e.g. beef). In general, however, one can conclude that Belgians maintain their traditional eating habits and are using more or less the same products as before (although consumption at home has increased).

Even though Belgians plan to purchase more regional and healthy products in the future, one can assume that - with an economic crisis looming in the background - price will continue to play an important (if not more important) role in purchasing decisions.